Week 13 of Clients and Cocktails was held at Stevie Nics II in Port Robinson. Now you may be asking why we went to this little hamlet, off the beaten-track -- the simple answer is -- we support those that attend Clients and Cocktails on a regular basis. A few weeks ago, Andy of  Lev8, (one of our regulars) introduced us to Nancy and Leslie. These two women have a passion for Port Robinson and are letting the world know. In the weeks past, we have heard the trials and tribulations they face in making sure their town is recognized as part of the Niagara community and in educating us on the phenomenal history of the canal and its famous people, the events they hold and the effort to bring Port Robinson back to Niagara as a place to visit.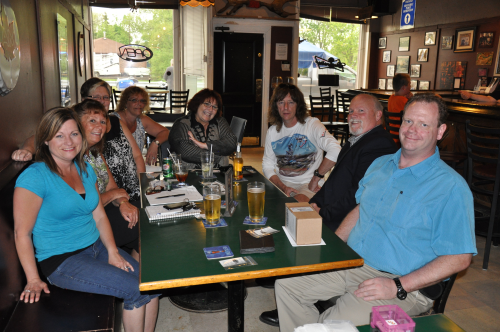 Above left to right: Nicky, Debbie Barnes, Leslie Janzen, Debi Katsmar, Nancy Waters, Andy Harris, Frank Campion, Justin O'Donnell 
While at Stevie Nics II, Nicky (one of the owners) filled us in on all she has done to make her pub a go-to place for the locals, Nancy  @port_robinson, Leslie @lesliejanzen and Debbie (another huge supporter of Port Robinson Proud) were able to give us more in-depth knowledge of the area complete with visuals since we were sitting directly across from the Fire Hall and the park along the canal. 
The discussions became quite extensive and in-depth about the community (and other political issues) with the arrival of Frank Campion,  @FrankCampion1 Welland Ward 2 Councillor. Frank listened intently to the conversations offering insights and reasons behind political decisions throughout Niagara. As mentioned - the conversations this week were a little more in-depth than usual. Frank had to leave for another meeting, but asked to be kept informed of our weekly meetings - another new follower of Clients and Cocktails, thanks to Andy @lev8lowlevel and Allen @alienalien117. 
The conversations became more casual after that, while some enjoyed the wings and the awesome cake Nicky provided for the group. Terry  @terrydow1 from the Greater Thorold Business Council dropped in and conversations were re-engaged once again. As things wound down for the evening, I received a text from another regular to the group Tom @tagitfortag "are you still there?" it said. While Tom was arriving as we were preparing to leave, we waited - he wanted to check out Port Robinson and Stevie Nics II - we couldn't disappoint. 
Others in attendance this week included myself  @prowlmarketing, Tom @lisztenup, and Justin @bccspeaker - What's with the twitter handles? As we mentioned, the group believes in sharing the wealth throughout the region. We all tweet about the event, the location and each other -- marketing engagement. 
Next week we will be in St. Catharines -  contact us for the location or follow us on twitter to stay in touch.
Clients and Cocktails is a casual networking group meeting every Friday afternoon in a different city/town in Niagara, at a different pub/restaurant. The meeting takes place from 3:30 pm - 6:00 pm and is a great way to get out of work early, wind down the week with a cocktail and still call it work. Discussions are mainly marketing related as the group discusses issues facing each of the individual businesses as a whole. There are no one minute introductions, just friendly conversation and personal intros. There is no membership fee, only the cost of your drinks and/or food. There are a few regulars to Clients and Cocktails, with each week another new person or persons drop in to check it out. Join us! You can sign up to receive our invite each week by clicking here.