Search Engine Optimization (SEO) is important to consider when creating and publishing any kind of online content—whether it's your business website, blog or otherwise. The better your business gets at optimizing your content for SEO, the more likely you are to be seen online to generate new leads and business!
---
Rank Higher When Consumers Search for Products or Services You Offer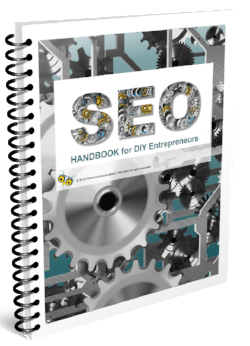 Search Engine Optimization—or SEO—is a term that may sound scary at first, but is simple when you break it down. It's the process of optimizing your online content (website, blog or otherwise) for search engine algorithms like Google's. Search engine algorithms are what look at all the content on the web, and lay it out on the search engine results pages. This is where your business will get found, or be lost in the world of "second page and beyond." Your business' SEO efforts are what determines your SERP (search engine results page) ranking, and consequently, determines how "findable" you are online to your customers.

Still confused? Basically, SEO is the process of tweaking your website, blog and other online content so that Google, Bing and other search engines will put you at the top of the search results page when customers start looking for you online.
Inside this 20-page FREE SEO Handbook for DIY Entrepreneurs you will find:

What is SEO and Why Does It Matter?  


5 Reasons SEO is Essential for Website Success  


5 Easy Tips to Climb Search Rankings  


16 Website SEO Musts for a Higher Search Ranking  


Understanding and Optimizing Your Website Speed  


8 Tactics to Make Your Website Load Faster  


Rank Higher For Keywords  
Get the handbook NOW! 
Whether you are just starting to build your website, or your website already exists, this handbook is perfect for any business looking to be found by search engines when consumers enter keywords and phrases. A must have for entrepreneurs, business owners, start-ups, and in-house marketing teams.