April 22nd was a celebration for members of Clients and Cocktails Networking. This particular Friday marked the 100th event. 
---
On Friday, April 22nd PRowl Communications was pleased to host the 100th Clients and Cocktails Networking Event taking place on this occasion at M.T. Bellies in Welland. 
The occasion was celebrated with many of the regulars and a few new members attending as well. Taking small business owners away from their business every Friday to network is a challenge, yet Clients and Cocktails has been doing it for over 2 years now. Each Friday, members of the group get together to discuss marketing challenges within their business and learn about the other businesses within the group. It is a very casual setting over drinks at a local pub or restaurant. 
I thought it appropriate to have a little more for the 100th event, asking one of our favourite restaurant owners John Clark of M.T. Bellies to host the event for his. We're all about casual and mingling, so mixed and mingled at the Bar - during supper hour it was a little crowded but still fun for all. A big thank you to Troy, our server for keeping on top of our orders.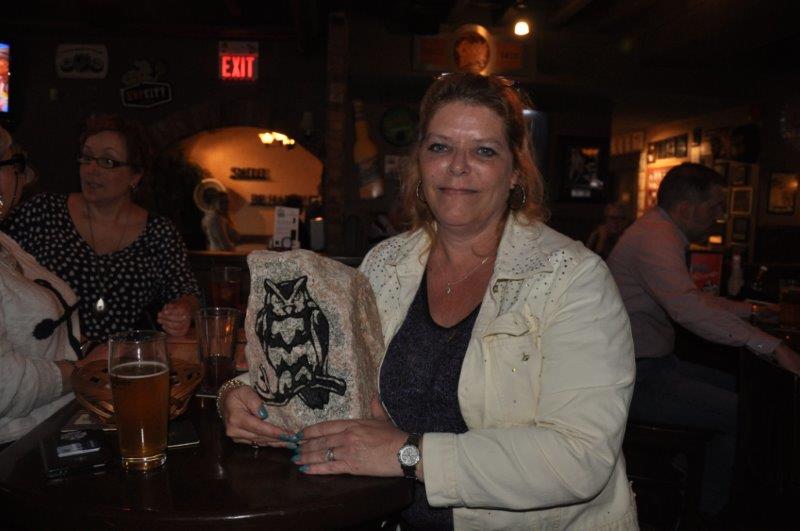 I would like to thank the following members for their door prize donations:
Bob Murden - Riverstone Home Improvements (I hope that's right) - won by Arianna Smith
Debbie Barnes - Port Robinson Proud - wine and gift bag, won by Denise Guerette, Gail Todd, and Dina Arsenault
Rob & Wendy - Niagara Fire - car wash, won by Debbie Barnes
Chelsea Harris - Scentsy Independent Consultant, won by Sean McCooey
Debi Katsmar - PRowl Communications, won by Greg Dow
Lana Armstrong - Dunnville Auto / Salon, won by Andy Harris
A special thank you also to Denise Guerette for the absolutely awesome Owl Rock she presented me with! I love it - you know me and my owls! 
Thank you everyone for coming out and helping to celebrate this milestone with me. 100 Clients and Cocktails. WOW! 
Here are a few photos: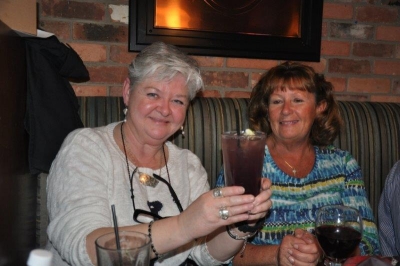 ---
Clients and Cocktails Networking meets every Friday afternoon from 3:30 pm until 6:00 pm. It is open to all Niagara business owners and/or their employees. There is no membership fee, nor a requirement to attend weekly. The meetings take place in a different pub/restaurant, in a different City/Town in Niagara each week. To find out where the current week's meeting is visit www.prowlcommunications.com - scroll down the page to the events section. Details are posted on the site weekly, usually every Tuesday. For further information about the group, please contact us.