Networking grows your business, connects you with local businesses for products and services and creates lasting friendships as well as business relationships. 
---
In February 2014 an idea was born. Now four years later that idea translates to 200 events and 132 Niagara venues and a ton of new connections and friends -- all because I needed a break. 
The idea was a weekly networking group offering casual conversation and the ability to truly get to know the people you are networking with and learn about their businesses. The group is called Clients and Cocktails Networking. 
History: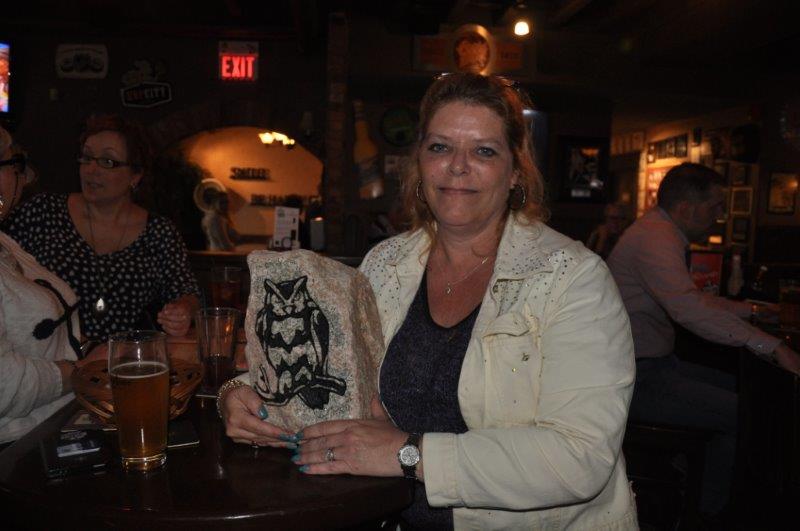 In early February of 2014, I was meeting with my then Account Manager, Tom Liszt (who has since moved on to start his own business Liszten Consulting and is the driving marketing force behind Great Canadian Cider Company) to go over the week's sales and chat about the week ahead. It was a Friday afternoon at Doc MaGilligan's in Niagara Falls. While chatting we commented how we both really enjoyed meeting every Friday afternoon and asked ourselves 'what if we started inviting others?"  
We discussed it a little more and came up with what we wanted the group to be... A weekly get-together of local business people with a willingness to share information, chat about their successes and struggles, what they are looking for in a customer and what they need to grow their business. We decided there would be no stand-up talks, no presentations, just casual conversation over a cocktail. We also decided there would be no membership fee, no requirement to attend weekly - basically we decided there were no rules... Well except for two.. I''ll get into those shortly. 
Next up was determining where we would hold these get-togethers and what we would call the group. We decided on Clients and Cocktails networking as the initial invites were extended to my clients. Next up was the location. Tom and I decided our group should be something different - something not being done by other networking groups that would always make it interesting. I thought about my values and what I'm known for -- which as it turns out is mainly my resources, knowledge of Niagara people and their businesses and my ability to connect businesses with the products and services they need. The other thing I'm known for is my willingness to help and share the wealth - this sometimes to the detriment to my bottom line... but oh well!  After 30 years in business - I think I know a few people and I definitely have helped a few.  
This is how we decided on the always changing venue. We also wanted to make the event convenient for others so along with the changing venue, we added a rotation schedule throughout Niagara, having our events in Welland, Fonthill, St. Catharines, Niagara Falls, and Port Colborne. Now and then, we add in Thorold, Stevensville, Beamsville -- even Wainfleet.  
And all because I'm a workaholic. I was looking for something that would get me out of the office, but still allow me to call it work and help others! 

Photo Credit: Andy Harris. Photo of me (Debi Katsmar) at the 100th event with my new owl (I love owls), a gift from member Denise Guerrette! 
Oh, and those two rules:
1. The venue must serve cocktails
2. Those attending must order something from the venue - whether it be a coffee, cocktail or food). 
And so it began.  
The Beginning of Clients and Cocktails Networking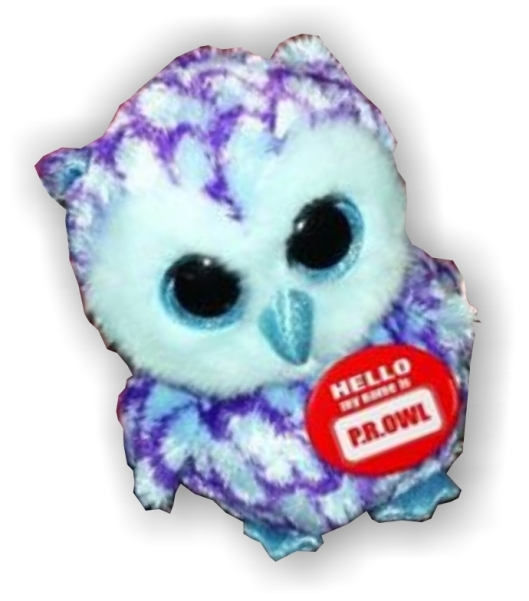 On February 28th, 2014, we hosted the first ever Clients and Cocktails Networking meeting at My Place Bar and Grill in Fonthill. Honestly I can't remember how many attended, but it was enough to do it again the following week, and the week after and the week after! We've had Christmas Parties and summer fun events, and introduced Oscar the Prowl Owl to the mix - he always makes our weekly photographs of the food we enjoy interesting, thanks to one of our regulars Andy Harris of Lev8. Andy has actually attended more meetings than I have. He is a great promoter of Clients and Cocktails. Thanks Andy! 
We also run a private facebook group for members to continue the conversation online, share kudo's, get information and run polls for venue choices.  To be invited to the facebook group, you must have attended C&C at least once. 
Invites go out every Tuesday to anyone in our list to inform where we will be each week (The events are also on the home page of our website added weekly). Join the list here if you would like to know where we are each week.  
The venues we've visited:
My Place Bar and Grill, Greek on Portage, Casa Mia Ristorante, Wildfire Steakhouse, Curry on the Canal, Cat's Caboose, Mojito House, The Regency, Chatters, Koko's (X), The Fireside, The Griffon, Teddy's, Panini Cafe (X), Bravo Grille, Gord's Place, Strada West, Puddy's, Cracker Jack's, The Rex, The Lakehouse, Hoops, Cat's Kitchen, Smokin' Buddha, The Host (X), Swing (X), Cafe on Main (X), Mick & Angelo's, Irish Harp Pub, Stevie Nic's (X), Taps on Queen, Monty's Gastropub, Eh Amigos, The Syndicate, The Mansion House, Bugsy's, Carpaccio's, Fuzzy Logic (X), Doc Magilligans, Don Marcos, Chip N Charlies, Fiddler's Pour House, House of Dulo, Cheers, Gusto Trattoria (X), Vaticanos (X), Mokus in Fonthill (X), Wrigley's Field, Johnny Rocco's NF, Lazy Loon (X), Lazy Lizard, Canalside, The Office, Club Belvedere, Brewins, Kilt & Clover, DJs Roadhouse, Bada Bings, Pub on the Hill, Lina Linguini's, The Spot, My Alibi (X), The Honest Lawyer, Don Cherry's -NF, PC and Welland, Walter & Neptunes, Trappers, 20/20, George's Greek Village, Karma Kameleon, Moose & Pepper, Parker's, Domenics on 20, Kim's Wooden Nicol, Somebody's (X), Welland Curling Club, Fonthill Legion, Blue Mermaid, Overtime, The Commercial, The Feathery, Blue Star, Merchant Ale House, Clancy's Too, Canal Boathouse, Broken Gavel, St. Louis Bar & Grill, Big Texas, Minor Fisheries, CCs Dugout, The Urban, Frego's, Beechwood Golf Course, Queen's Guard, Boston Pizza - Welland, Bridge 12 Upper Deck, Moe's, The Beacon, Pelham Street Grille, Taris on the Water, The Lemon Tree, Bezo's, The Boathouse (X), Drifters, Tailgates, Iggy's Pub, M.T. Bellies, Pie Guys, Zappi's, Donolly's, Port Colborne Country Club, Mr. Mike's, Peter Pipers, Jack Astors, Handle Bar Hanks, Chuck's Roadhouse, The Belmont, Ye Ole' Squire, Olee's Ale House, The Blind Pig, Flying Squirrel, Johnny's Place, The Trap, Pier 61, Grand Central, The Reeb House, Kame & Kettle Beer Works. 
This week we will be at Rib Crib and Smokehouse (formerly The Host) in St. Catharines.  Join us - here's the link. 
Our 200th Clients and Cocktails Networking Event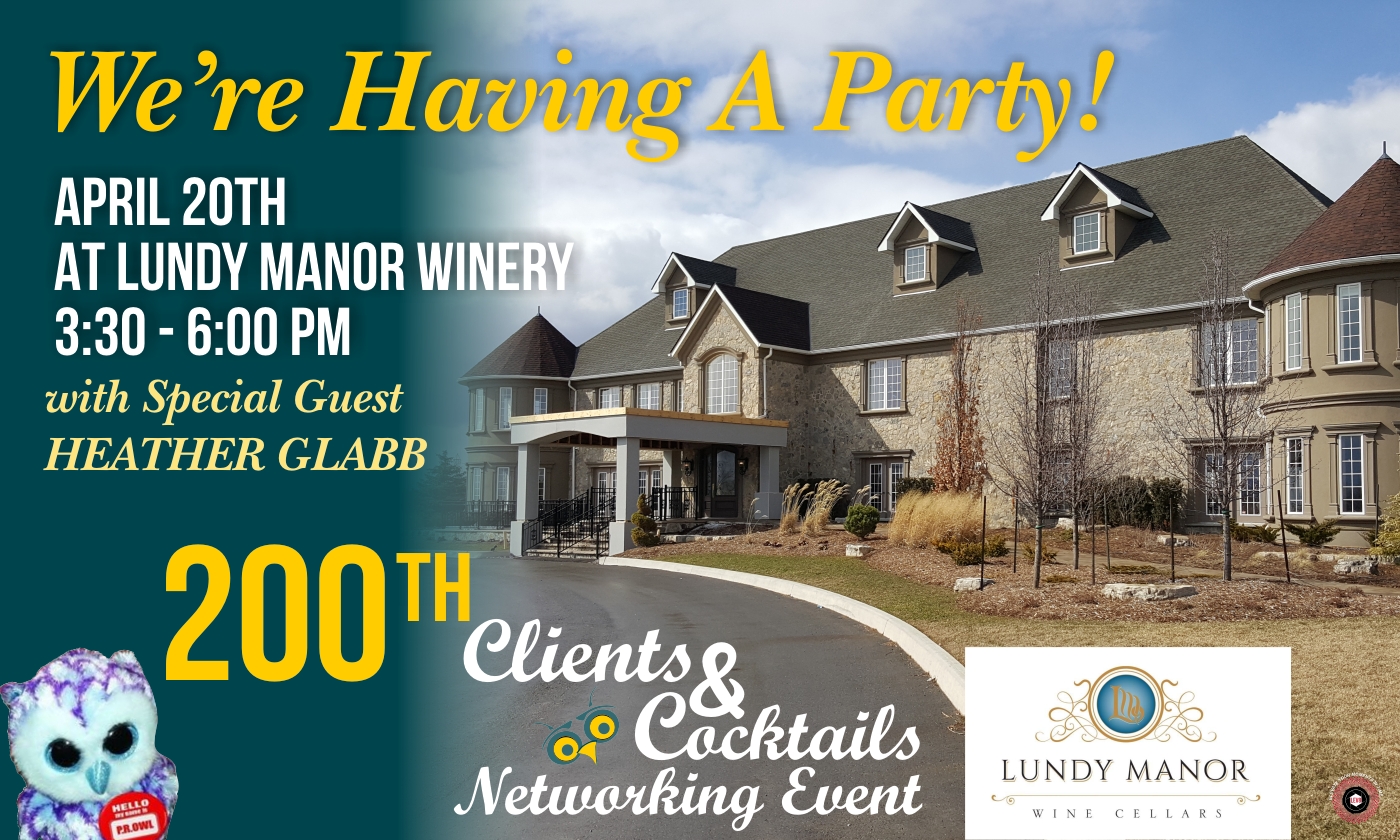 Fast forward to April 20th, 2018 we will be celebrating 200 events and 132 venues visited. We've introduced many people to new restaurants and pubs locally, giving them an opportunity to try places, in some case they didn't know existed. We have visited some locations several times under different names as one closes and another opens.  We try not to visit the same place twice -- which is difficult in the smaller cities in the Region, but in St. Catharines and Niagara Falls, we will never run out of locations to visit. 
We celebrate our milestones. 200 events is definitely one of those milestones.   
This special event will take place Friday, April 20th from 3:30 - 6:00 pm (our usual time) at Lundy Manor Winery in Niagara Falls. Mark and his team have welcomed us with open arms. What a beautiful winery! We have special guest, Heather Glabb performing for us, door prizes (if you would like to donate a prize, get in touch) and great conversation happening. Please register if you would like to attend -- we need to let the venue know approximately how many will be attending! We can't wait! 
... and all because I wanted a break from my desk, but still be able to call it work. 4 years, every Friday! 
Thank you to those who regularly attend each week, who have run the meetings in my absence (every now and then, I cannot get there) and to such a wonderful business community in Niagara for supporting us. Also a huge thank you to restaurants and pubs we visit. We never call ahead, we just show up - sometimes that is a little overwhelming on the staff at the venue - but don't worry, we understand.  Some weeks we have 6 people out, other weeks 24. The 200th should see a great turn-out - it's something to celebrate and a great new venue! Hope to see you there!