Last month I had the privilege of attending the Women in Leadership and Business Conference held at White Oaks Resort in Niagara-on-the-lake.  And when I say privilege, I mean privilege. This conference was packed full of interesting workshops and exhibitors with the sponsors taking a very active role in promoting the conference and making the delegates feel right at home. Ildi Wiley of Results Continuum reached a standard that will be hard to beat for next year's conference – I'm sure she will do it however.
Business leaders from throughout Canada came to attend workshops from such well-respected speakers as Gail Vaz-Oxlade; host of From Debt Do Us Part. Gail was the keynote speaker for the event. Unfortunately due to previous commitments I missed this one – from what I heard – I should have rearranged my schedule to be there!   
For me,  the conference was a must attend due in part to A) having provided the social media coverage for the event and B) my involvement as a Constant Contact Solution Provider. I once again was able to work directly with my Ontario Director, Lisa Kember in helping with her workshops and manning the exhibitor table throughout the conference. Incidentally, as a result of the conference, I have now been made an Authorized Local Expert for Constant Contact – you never know — it might be me speaking at next year's event.
I can tell you one thing, I had a tough time keeping up with the excellent tweets and coverage of the conference that Tim Ostrem of Cambridge Suites Hotel in Toronto provided. As one of the major sponsors Cambridge Suites put on a fabulous Welcome Wine & Cheese event to kick off the event on Sunday evening. Eveyone looked forward to seeing the bike butler touring around throughout the event as well – always filled with goodies for all.
Although I did attend most of the workshops, I think my four favourites were Maria Gamb: Unlock Your Powerful and Influential Leadership: Be the Leader Others Want to Follow, Work for and Aspire to Be; Lori Raudnask : Mastering the Art of Beating Burnout: Live a Life of Sustainable Success; Nicole German: Linked In Leverage Social Media to Market Your Brand (oh I wonder why? LOL); and I think I had the most laughs while learning in Marti Bartella's : GenderSmart Marketing™: Rock Your Sales, Share and Profits with the World's Mightiest Market.
Make that five – I really enjoyed Paul Copcutt's session on Personal Branding as well.
I also know that my reading has been established for the next few months with all the books and literature I received from the speakers.  One of the other highlights of the conference was the 'Don't Dine Alone' Program. I've attended many conferences big and small throughout North America and have never heard of such a thing. Basically, the Don't Dine Alone program offered delegates the ability to have dinner with the speaker of their choice. What a great idea this is!  So often after listening to a speaker there are so many questions to ask and get answered. This wonderful venue allows one on one conversation for follow up. Below a few of the delegates at the table I was at with Lisa Kember of Constant Contact and Nicole German of LinkedIn.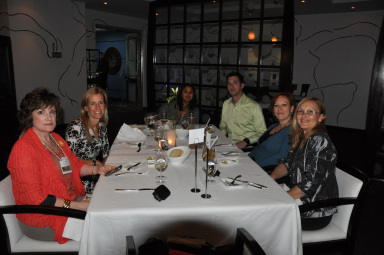 Ultimately, I gained more from these two days than any other attempt at personal and business development that I have done in the past year or so.

For those that attended this year, I hope to see you all again next year. And for those that didn't attend — consider it! There is no possible way you could be disappointed in what you will learn to grow yourself and your business. The speakers – second to none. The content – exactly what is needed for business and personal growth. The connections – will stay with you for life!
---
PRowl Communications was responsible for the social media aspect of promoting the event.