For entrepreneurs time is money. Any little tidbit of information that saves time when it comes to marketing their business helps. One of facebook's handy features is the Interest List - Follow these steps to save time and keep your favourite pages at your finger tips.
Using Facebook's Interest Lists:
The purpose of facebook's interest lists is to allow you an easy way of keeping track of specific page feeds as they relate to your interests. By creating a category for each list, you can add pages you have 'LIKED' to one of your interest lists. Once you have added the pages to the list you can call up that list on facebook and view the feeds from this list all in one place. There is no need to visit each page individually, their feeds will appear in your list view.

How to Setup an Interest List:
Start by going to the first page you would like to add to an interest list. Click the down arrow beside the 'LIKED' button.
Click New List + and give your list a name
Go to the next page you would like in this list. Click the down arrow and add to interest list. Now select the list name you just created. Continue for each page you would like in this Interest List.
To View Pages in your Interest Lists:
On the left hand side of your 'personal home page' scroll down until you see the word Interests.
Select the list you would like to view by clicking on it.
Facebook will change to show you the feeds from all the pages in the list you selected.
Voila - no more searching for information.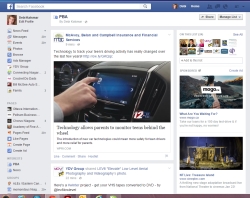 We have used the Pelham Business Association Page to demonstrate this process because they use facebook's interest list to find their members' posts easily for sharing of the information. To learn more about the Pelham Business Association visit their website www.pelhambusiness.ca