Customer testimonials are powerful marketing tools that can help your business attract new customers and increase sales. However, getting customers to write testimonials can be challenging. That's where customer surveys come in.

As a business, collecting customer reviews and testimonials is essential. There are several ways to ask for a testimonial from a client, including searching online for customer reviews, recording video or audio clips during in-person conversations, and initiating a testimonial swap. However, many businesses overlook the customer satisfaction survey as an opportunity to collect reviews and turn them into testimonials.
A customer satisfaction survey helps businesses determine their customers' satisfaction levels, enhances overall experiences, and boosts retention rates. The survey also presents an excellent opportunity to collect business, product, and service reviews and convert them into testimonials.
Customer Satisfaction Survey
The customer satisfaction survey is a perfect platform to get material for testimonials because clients feel less anxious filling out a survey, which only the business will read. This allows them to be more authentic and honest in their responses. Authenticity and honesty in testimonials are what will convert future prospects.
Most customers don't know what makes a good testimonial, and while positive online reviews and unsolicited testimonials feel good, they're not always effective marketing tools. To convert customer satisfaction surveys into the best testimonial material possible, businesses should consider the following:
Do excellent work
Send the survey at the right time
Compose a friendly and personalized message
Ask the right questions
Edit the testimonial.
What Makes A Good Testimonial?
Specific and Honest:
A good testimonial is specific and honest. It should highlight the specific benefits and results that the product or service provided. Use details and examples to make your testimonial more compelling. Example:
"Working with ABC Company has been a game-changer for my business. Their team is incredibly knowledgeable and helped me increase my revenue by 30% within just six months. I highly recommend their services to any business owner looking to take their company to the next level."
Quotes and a Positive Emphasis:
Including a quote from a happy customer can make your testimonial more engaging and memorable. Use language that emphasizes the positive benefits of the product or service. Example:
"I can't thank XYZ Company enough for their outstanding customer service. Their team went above and beyond to help me solve my issue, and I was blown away by their kindness and expertise. I would recommend them to anyone looking for a reliable and trustworthy partner."
Personal Connections:
Testimonials that share personal stories or anecdotes can be very effective. They help potential customers feel like they can trust the company and its products. Example:
"I was hesitant to try ABC Company's product at first, but after speaking with their customer service team and hearing about their dedication to helping their customers, I decided to give it a try. I'm so glad I did! Not only did their product work wonders for me, but I also felt like I was part of a community of people who genuinely cared about my well-being."
Use of Data and Numbers:
If you have survey results that show how the product or service has helped customers, include them in your testimonial. Numbers and data can be very persuasive. Example:
"I was blown away by the results of my survey after working with XYZ Company. They helped me increase my website traffic by 50% and my conversion rate by 25%. I couldn't be happier with their service and would recommend them to anyone looking to improve their online presence."
When developing your customer satisfaction survey, consider the points above to lead your clients to providing information you can use when crafting testimonials from the results. 
How To Create a Good Customer Satisfaction Survey? 
Define the objectives of your survey: Before creating your survey, you need to have a clear understanding of what you want to achieve. Determine the information you need to gather, the audience you want to survey, and the goals of the survey.
Select the right survey type: There are various survey types available, including multiple choice questions, rating scales, open-ended questions, and more. Choose the type that aligns with your objectives and the information you need to collect.
Use clear and concise language: Ensure that your survey questions are easy to understand and answer. Use simple language, avoid jargon or technical terms that your audience may not understand.
Avoid leading questions: Do not use questions that suggest a particular answer or are biased in any way. This can skew the results and make the survey ineffective.
Keep it short: Keep the survey as short as possible while still gathering the necessary information. A shorter survey is more likely to be completed and will result in better response rates.
Use features provided by the survey tool: If using a survey tool, utilize features like skip logic to ensure respondents only answer relevant questions, question randomization to avoid order bias, and response validation to ensure respondents provide valid answers.
Test the survey: Before sending out the survey, test it with a small group of people to ensure that the questions are clear and easy to understand.
Analyze the results: Once the survey is complete, use reporting tools to analyze the results. Use the insights gained to make improvements to your business and customer experience.
At PRowl Communications, we recommend using Zoho Survey, a tool that offers a free trial, to create customer satisfaction surveys and collect business reviews. We are a Zoho Authorized Partner and can help set up the survey and guide you on how to use it effectively.
What Survey Tool to Use?

At PRowl Communications, we recommend using Zoho Survey, a tool that offers a free forever plan, and a free trial, to create customer satisfaction surveys and collect business reviews. We are a Zoho Authorized Partner and can help set up the survey and guide you on how to use it effectively or you can do it yourself - Zoho provides all the help files you need to easily create, send and analyze your survey. 
Customer Satisfaction
Ensure customer satisfaction throughout their journey with your business. Understand how your customers perceive your products/services, so you can improve services and customer experiences. Our wide range of customer-related survey templates have been tailored to match your business needs, or you can build your own questionnaires.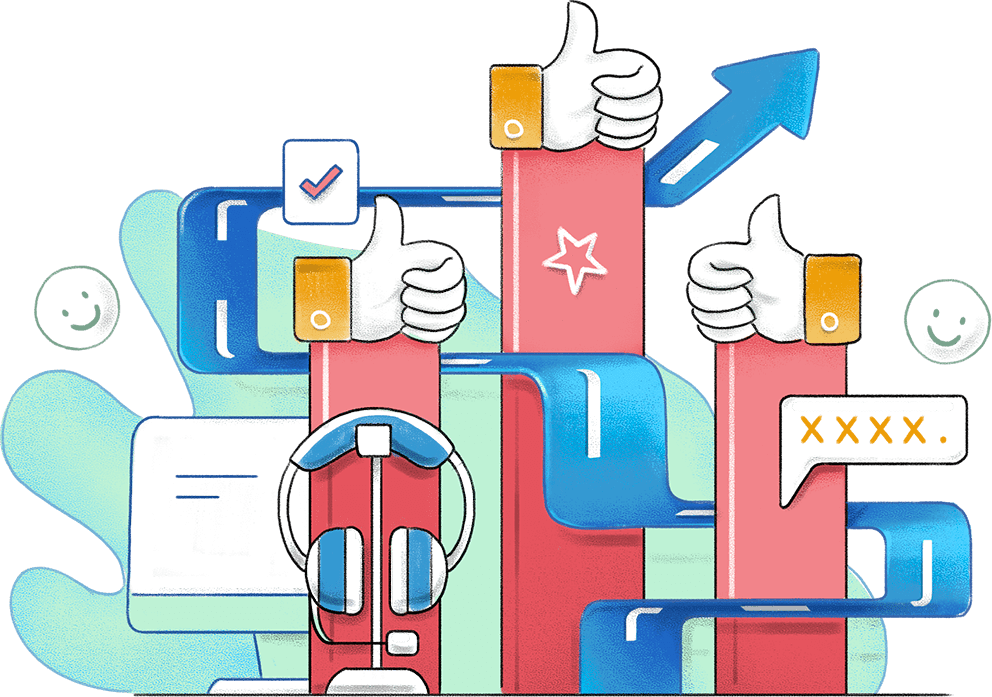 Sure, you can use an email to conduct a survey, or a form on your website, however the value in using a tool like Zoho Survey is the ability to generate the reports and ultimately create your very own CSAT Score (Customer Satisfaction). This score helps you strategize on providing better customer service, better products or services based on the answers provided by your customers. As stated above, the customer satisfaction survey is a great marketing tool.  Zoho Survey makes it easy! 

You will: 
Improve customer retention
Strengthen brand loyalty
Recreate positive experiences. 
Zoho Survey has over 250 templates for all of your survey requirements including many examples of CSAT surveys in a variety of industries. Start with a template and brand it for your business, customize the questions for your business and watch the results come in. 
---

Debi Katsmar is a Certified Marketing Strategist and Zoho Authorized Partner. Working in the marketing industry for 34+ years, she has helped countless businesses grow and expand their marketing efforts. For assistance, contact PRowl Communications, book a 1-hour FREE Strategy Session or call today! 
*As a Zoho Authorized Partner, we receive a small commission if you purchase Zoho products from one of our links. There are no additional fees to you, however the benefit to us is these small commissions allow us to answer your questions and help you with the tools we offer links to. We also offer complete implementation services for Zoho products. Ask us for a quote.