Making a monkey out of your marketing is not filling your sales funnel. Constant Contact's integrated tools make growing your business easy, connected and measurable. 
---
So why are you monkey-ing around?
If you haven't looked at Constant Contact lately, it is time you did! 
It is more than an email marketing tool, it is a complete marketing tool! Sure, it might not be free like another service out there, but... it does so much more, so much easier! So why would you use a free tool that is limited when for just $35/month* you can do SO MUCH!
Heck, you can make that back in one campaign! Easily!
Believe us - we have used many different email marketing platforms, but Constant Contact lets us do it all for ourselves and our clients. We've been using Constant Contact since 2008 non-stop, our business is where it is today because of the consistent use of email marketing, event registrations, surveys and social campaigns available through this platform. Every year, we are the recipient of the All-Star Email Marketing Award -- why? Because our campaigns consistently exceed industry standards for open rates and the use of best-practices. We can help you do this too!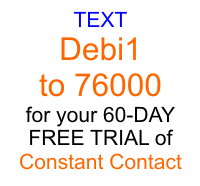 OR, with the help of Constant Contact's guides, videos, webinars and blogs - you can do it yourself. YOU CAN! If you can use a word processor, you can use Constant Contact! No list is too small to get started. The best list to start with is your current customer list and start from there! 
Create email campaigns like Newsletters, announcements, promotions, show your latest video, sell products directly from your campaign (one click- VOILA! instant purchase). 
Create awesome surveys and polls to learn what your customers are looking for, or customer satisfaction surveys, or even find out an opinion.
Send coupons and offers
Use it for collecting event registrations, managing who attended, who did not. You can even collect payments and offer promo codes. 
Non-profits can collect donations! 
This is a great tool: Social campaigns - use it to offer downloads, run contests and more direct to facebook. 
The Autoresponder tool allows your system to work for you all the time - it takes a little planning - but once done it is done.  
---
DID YOU KNOW? Constant Contact recently introduced an autoresponder that will automatically wish your customers a happy birthday or anniversary? You can also use it to remind people of renewal deadlines and so much more. For restaurants, florists and many other industries -- this is HUGE! Read more here:
---
And guess what? It is all track-able and measurable! You will know instantly if it is working! 
So, please tell me why you are monkey-ing around with that free service when you could be doing so much more? Why? 
Even that free service will want money for advanced features, but it will never do all that Constant Contact will with Email Plus - it just isn't available. 
*$35/month U.S. for Canadians $45/month U.S. in the United States based on less than 500 email addresses in your list. Image: freeimages.com jon ng
---
Have questions? Call us! 905-734-8273. We will gladly answer your questions, set you with a free trial, help you get started - we can even develop your overall plan! It is what we do as a Constant Contact Solution Provider and Authorized Local Expert. We usually have special offers available like 40% off for 3 months until November 22nd, 2015. Call for details or complete this form and we will contact you! 
---