FOR IMMEDIATE RELEASE 
---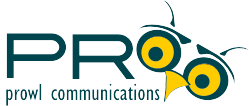 Niagara marketing expert helps small businesses and nonprofits achieve meaningful marketing results
WELLAND, ONTARIO - July 24, 2018 Debi Katsmar, Marketing Strategist and President of PRowl Communications has been named a Certified Solution Provider by Constant Contact, an Endurance International Group company and leader in email marketing solutions.

As a Certified Solution Provider, PRowl Communications has demonstrated in-depth knowledge of the Constant Contact email marketing platform and best practices. This ensures participants can easily create more engaging, customized emails that will help grow their clients' businesses.
"We are honoured to have earned the Constant Contact Certified Solution Provider designation once again," said Debi Katsmar, President of PRowl Communications. It is an achievement we work hard to maintain and have since the inception of the certification program in 2014 we believe. Since 2006, we have helped hundreds of businesses with their marketing and in particular email marketing best practices to grow their lists and increase revenue. We are looking forward to many more years working with Constant Contact and SMBs throughout Canada and the United States."
PRowl Communications has offered a broad spectrum of marketing services to clients throughout North America since 2001. Debi Katsmar has worked in the marketing industry for 30+ years, consistently learning and changing to offer the best in marketing practices, educating her clients and providing assistance wherever she can. Her clients know she goes above and beyond the services contracted. She listens and she cares. Debi has seen many changes throughout the years -- when she started in the industry, the fax machine was the new kid on the block... 
"Our Certified Solution Providers have proven, in-depth knowledge of email marketing and Constant Contact's offerings," said Jonathan Kateman, General Manager, Constant Contact. "By earning Constant Contact Certified Solution Provider status, [name] has demonstrated [his/her] commitment to helping clients succeed by taking proactive steps to grow [his/her] marketing skillset."'
About PRowl Communications
PRowl Communications is a Niagara, Ontario Canada based sales and marketing agency enhancing the search for YOUR perfect CUSTOMERS through digital and traditional solutions for scalable business growth. We have developed a process to drive more leads and convert them to sales through design, planning, campaigns, marketing automation and training. www.prowlcommunications.com 
About Constant Contact
Constant Contact, an Endurance International Group company and a leader in email marketing for more than 20 years, provides hundreds of thousands of small businesses around the world with the online marketing tools, resources, and personalized coaching they need to grow their business. www.constantcontact.com 
About Endurance International Group
Endurance International Group Holdings, Inc. (em)Powers millions of small businesses worldwide with products and technology to enhance their online web presence, email marketing, mobile business solutions, and more. The Endurance family of brands includes: Constant Contact, Bluehost, HostGator, Domain.com and SiteBuilder, among others. Headquartered in Burlington, Massachusetts, Endurance employs over 3,600 people across the United States, Brazil, India and the Netherlands. For more information, visit: www.endurance.com .

Endurance International Group and the compass logo are trademarks of The Endurance International Group, Inc. Constant Contact, the Constant Contact logo and other brand names of Endurance International Group are trademarks of The Endurance International Group, Inc. or its subsidiaries.

#
---

Media Contact:
Debi Katsmar

PRowl Communications

905-734-8273