A blog is a powerful tool, we all know that. So what's holding you back from writing your first or next blog post?

You've Heard It Before: 'You Must Have A Blog'
For years now it has been drilled into your head that you must have a blog. With every course or webinar you participate in, the importance of a blog is drilled into the message – that and social media of course. As marketers, every time we mention a blog to one of our clients, most get this glazed-over look in their eyes, or a complete look of terror.
"OMG, you want me to what?

I can't write. What will I say? Where do I start?

I don't have time for that crap.

What the heck for?

Why would I want to?

What's the point? No, no way am I doing that!"
These are the comments we hear almost every time we suggest adding a blog to our clients' sites. Or building on the blog they started once upon a time that hasn't been touched since their website was launched.  We bet, if you go to any other marketer's website, you will find much the same story if they have written a blog about blogging. 

Before we get into the nitty-gritty of the Power of the Blog, let us tell you a story:

What Our Pigmy Goats Taught Us About Blogging
Once upon a time the office was located on a farm. I (I know changing tense here – but it's a must for the story) could work and watch the horses, goats, chickens, dogs, cats, and the local coyotes, deer and heaven knows what else roam around the yard and surrounding fields. One morning while writing my daily blog (I had more time back then, as the business was part time), I heard a clatter. I looked outside to see my two pigmy goats on the roof of the barn. As I am frantically running to the barn the female goat (Alice) slid off the roof into the manure bin. The male goat (Cooper) decided that looked like fun and purposely did it. Now I'm faced with two goats inside a manure bin. Of course it is 6 in the morning, I'm in my jammies and bare feet trying to rescue my goats. I didn't think it so funny while rescuing them, but as soon as I got back to the office, I restarted my blog with that morning's goat-antics.  The funny thing was – somehow, I thought to grab my camera and get photos of the goats on the roof of the barn and in the manure bin. I must have realized it would be an excellent blog post.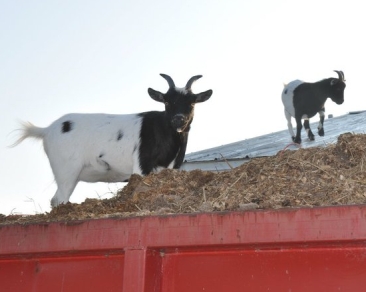 This blog that I wrote was for my farm and it was also therapy in a sense for me. I enjoyed writing the blog every morning. If I'm boring you, I apologize, I just thought it necessary to fill you in on the story before filling you in on the results.  Often, I also used the more interesting posts in the online horse magazine I published weekly at the time – incidentally, it is still live today, although I sold it about 8 years ago.

What was the result of that blog post? Well – that summer, I had guests from around the world come to my farm for riding lessons, trail rides and my infamous 'Ride, Wine and Dine' Trail Ride. For whatever reason I had 1000s following this blog every day. Some were local, some were riding students and friends, but most were just people who happened upon the blog and kept reading every day.  I had 3x the number of trail rides and visitors to the farm that summer, because of the blog. 

When I asked my visitors how they found the farm, they were quick to reply "We follow your blog. We love reading about the antics on the farm, especially Alice & Cooper the pigmy goats".   Our tag line for the farm was 'We have Alice & Cooper playing live every day". 

And now I'll change tense again – back to the real reason you're reading this article:
10 Ways Blogging Will Help Your Business
We're sure some of these you have heard before, but it never hurts to have a recap.
1. Blogs help your website be found online.
This is the #1 way blogs will help your business – visibility on the ever-growing content on the web. Because your blog posts are rich in content, filled with the keywords your customers are searching for, chances are good when someone searches for a specific product, service or even an answer to a question, your blog post will appear ahead of your website itself. Of course, this is assuming you have a post that you have taken the time to write with facts and information that truly explains what you are writing about.

Hint: when writing your blog, take the time to think about what questions your customers will have, what problem it solves – the types of questions or queries your customers will put in the search bar online.  

2. Your blog will establish you as an authority
The search engines today, in particular Google, have pretty intense algorithms for how they rank your website. They are looking for relevance, authority and trust. By adding detailed blog posts specific to one topic, you are building these three factors on your website for the search engines to find your site – A, and B, providing excellent information for your customers to read about your product or service or even helpful tips and information useful if relevant to your business.

Hint: Take the time to do a little keyword research before writing – what are people searching for in relation to your product or service. Build these keywords into your blog (but don't over do it – gone are the days of repetitive keywords to boost rankings on the search engines).
3. A blog will give you more leads
According to Hubspot, businesses using blogs as part of their content marketing mix get 67% more leads than those who don't. Why? Because you have provided answers to consumer questions, and if you're a smart blogger, you will have a call to action on the page as well. 
Hint: include links in your blog article to the product or service on your website relevant to your topic (again don't over do it). And, at the bottom, include a call-to-action. This could be a special offer, asking the reader to call or email, a download or even a link to sign-up for your newsletter.
4. Blogging Offers a wealth of content for your Social Media
Think about it, blogging makes it easy to have content to share on your various social media platforms, which in turn drives traffic to your website. The trick is to have an intriguing description with a great image and of course a link to the blog post. Ie: This blog post alone will give us 12 to 15 different social media posts based on the content contained here.

Hint: When posting to social media, always include a direct link to the blog post you are referring to. Do not link to your blog in general or just your website.  And never simply say 'find our blog on our website'. People are generally lazy, they won't look. They want to click a link and be taken to your post immediately.
5. Your Blog Ensures New Content on Your Website
Google loves to see websites changing. If you built your website and have never touched it since – you're not helping when it comes to SEO and ranking online. Fresh content is part of the algorithm used in google rankings, but also it lets visitors know you are alive and well. How often do you go to a website and wonder if they are still in business? You don't want your customers guessing.
Hint: Even one blog article a month is better than no new content on your website.  
6. Writing a Blog Let's Your Brand Shine
Showcasing your brand sometimes is the differentiator between you and your competition. When writing your blog articles, be sure to incorporate your brand's core values into the content where possible. If your brand is fun and quirky, write that way.
Hint: Stay true to your brand.
7. The Content of Your Blog Can Provide the Framework for Literature
Often your website talks about your products or services in basic terms. This is who we are, this is what we sell, this is why you should buy it. By writing about one specific product or service, you can now hit home to your customers' pain points, showing the solution to their problem, the benefits, the circumstances – all the reasons your customer would want this product or service.  When you're done you have the basis of a brochure, or piece of literature you can now hand out to your clients when meeting them in person - with a little graphic design help of course. 
Hint: Do not make the blog post a spec sheet – hit home with your customer's pain points.
8. Blogging Attracts Shares and Links Back to Your Website
A great blog post will be found, shared, and often linked to by others (sometimes even your competition that may be too lazy to write their own content). Consumers will share it with their friends through social media, encouraging engagement with your product, service and brand and all giving more opportunity for others to land on your website to read more. In other cases, if your post is truly showing your authority for the specific topic, others will include a link in their blog articles to your blog article. Google loves relevant links back to your website.
Hint: You can help this happen by sharing your blog with bloggers, news sources, supporting businesses or organizations that may find the information helpful or useful to their readers.
9. Writing Your Blog Strengthens Your Understanding of Your Customers
Now you may think this is an unlikely benefit of writing a blog, yet it is so true. Why? Because it forces you to look at your product or service in the eyes of the consumer. What are they looking for? Why would they buy the product or service? Why would they buy it from you rather than your competition? What made them look for this product in the first place? What will their concerns be? What is their buying cycle? Believe me, if you have been in business for any length of time, you know the way your customers think – use it! By writing to this understanding, the reader will think you are writing it just for them. Market to the experience or feelings of your customers. 
Hint: Buy product A from Company A for this price, no longer works. Consumers want to know more and understand how your product or service will make their life better!
10. Having A Blog Will Encourage Return Visits To Your Website
If people find the information you provide interesting, they will return to your site to see what's new, especially if you're sharing your new posts on social media. Consumers generally remember what they like and don't like – so if they liked it the first time, chances are good they will come back. You can have fun while encouraging profitability with your blogs. You can move out of your comfort zone when writing and educating your customer on your products and service, you can show you are trusted, established and an expert in your field. All of this encourages new visits, shares and engagement.  
Hint: Be thoughtful with your customer in mind, be consistent and provide useful information. Telling a story is often an easy way to get a point across without being boring when talking about your products and services.
And there you have it. 10 Ways Blogging Will Help Your Business. Bonus: #11 - Your blog is also great content for your monthly newsletter as an example.

Key Take-A-Ways
Blogging is a great way to attract visitors to your website as you will start ranking higher with the search engines provided you provide good quality, informative, educational, authoritative and trustworthy articles for your readers. Blogs will improve your leads and ultimately sales, you can have fun and learn more about your own products and the reasons consumers buy your products and services and you will have made your social media marketing much easier because you now have well thought out content to share.


What we didn't cover is where to start or what to specifically write about. Strategy is as important for blogging as it is with any of your marketing efforts. Make a plan.. and every now and then throw in something fun (but relevant), an employee story, something funny or interesting that happened at the office, what you're doing for the community, a customer story – don't make it all about product sales – your customers want to know you and your staff are human. All of this will help you climb the search engine rankings.  


One of our most read blog posts, interestingly enough is talking about blogging, but the headline is Blogging: What to Write. Even Toilets Make It 
Of note -- today it is recommended your articles should be 1500-2000 words or more. That's a lot of writing, it takes some planning and time. Build it into your schedule, start small at one per month – even that will help your rankings.  And, should you require help, we offer a complete professionally written blog writing service if you are more the do-it-for-me type.. But we will still require your help. We don't know your customers, like you know your customers.
Learn More About Our Blog Writing Services 
You have a 434% higher chance of being ranked highly on search engines if you feature a blog on your website. TechClient  

Side Note: This blog is over 2300 words. It was an hour of planning and research, 2 ½ hours to write it, 1 hour creating and finding images, ½ hour to post it, and ½ hour proofreading.
What is your time worth?