Recently I have put a call out for entrepreneurs, small business owners and marketers to ask questions about business and marketing - if you know me, you know I love to help.  This is the first of the series.
---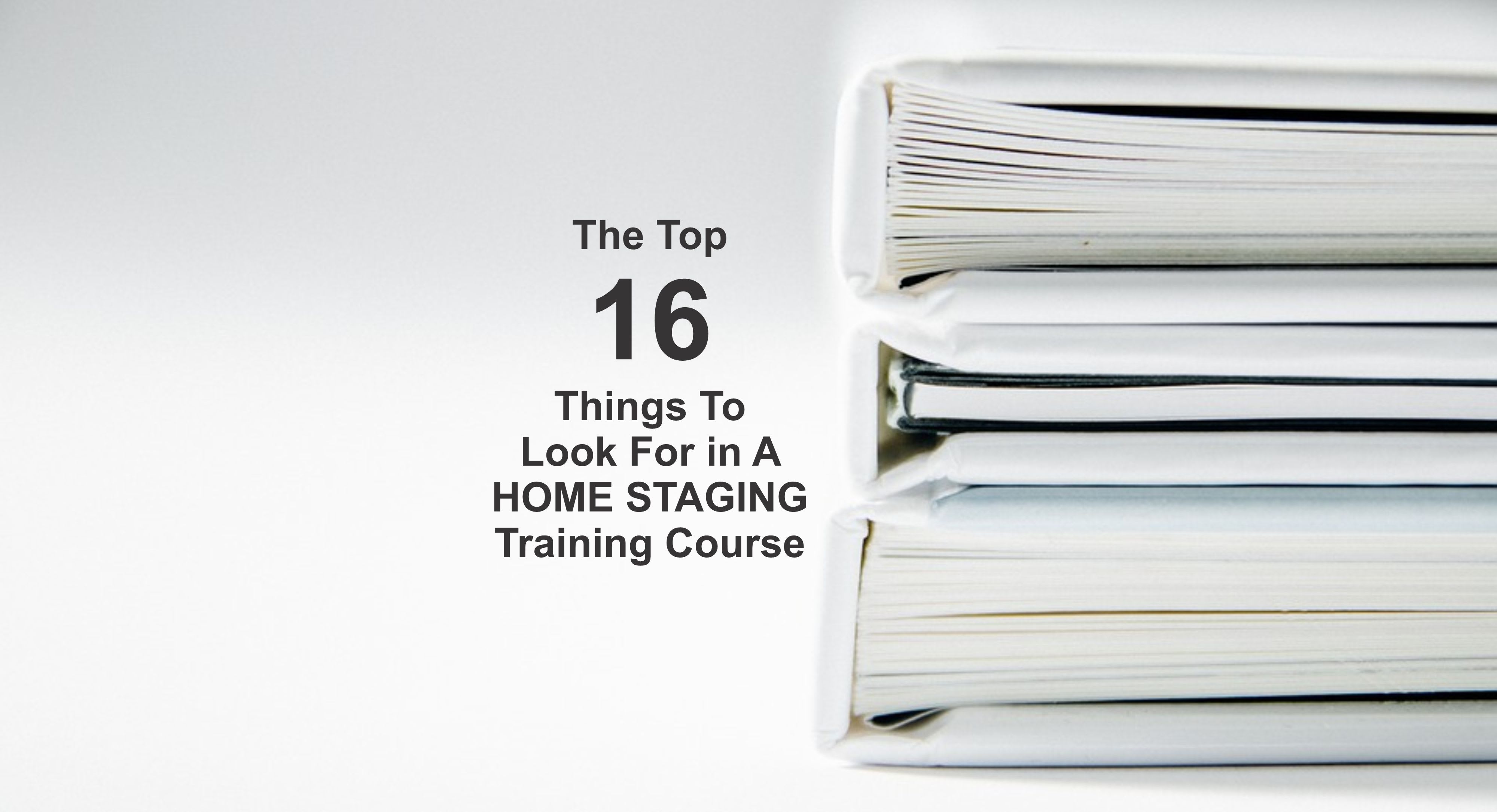 Q: I have been thinking of starting a home staging business. I love real estate but the market is saturated with agents, and interior design is not quite my thing -- so this moved me toward looking at staging as a business. I am creative, I love working with people, and I'm not afraid to get my hands dirty when needed. I do not know much about running a business per se, I have worked in the retail trade for 15 years, but now my kids are grown and I'm looking for something more - something that does not take a ton of money to start and I can operate from my home.  I have watched enough HGTV shows on real estate flipping, interior design, staging in general to know the basics of what would be entailed in working as a stager, my problem lies in I believe I need training in some way in order to start my foot off on the right foot - training that offers not only staging knowledge but something that offers business training as well. I am not interested in working for someone else at this point in my life.  There are so many schools offering training for home staging with pricing all over the place,  how do I decide

A) is home staging a good business startup?
And B) how do I decide which staging course to take - there are so many?

Thanks for your help. I will look forward to your reply.

MaryAnn V., Kelowna, BC
A: Hey MaryAnn, thanks for the indepth question. It makes it much easier to answer questions when there is detail to the question.  So l'll start with your first question.
Is a home staging a good business startup?
In my opinion, yes it is for many of the reasons you mentioned above in that it has a relatively low startup investment and you can work from home, but more importantly there is a diverse market to sell your services to. Ie. Real estate sales representatives are a dime a dozen in most cities -- all fighting to list or sell the same homes. Don't get me wrong when I say, there are a lot of starving Realtors® out there - and just as many making a great living as well.  The difference with staging is you have more than one market to target. You can target the homeowner looking to sell; the real estate salesperson looking to sell is clients' homes quickly and for the highest dollar possible; builders and developers looking to upscale their model homes; real estate investors and flippers; and even property management companies with those hard to rent spaces. Second, in most cities not everyone knows a real estate stager, whereas almost everyone knows an agent they are familiar dealing with.  
"Home staging is a growing field, with 38 percent of sellers' agents saying that they stage all sellers' homes before listing them for sale.
For those sellers or realtors that don't want to do the work themselves, that's where professional home stagers come in. (Editor's Note: ONLY 28% of agents said they staged their properties which indicates huge opportunity to educate and convert to a client)

This industry can be a particularly attractive one for design savvy individuals. It doesn't take a huge upfront investment compared to some other business models. And there's plenty of room for growth in the industry." ~ Smallbiztrends.com  
Here is a great article from Christine Rae, Founder and CEO of CSP International™ Staging Business Training Academy - She calls it a virtual chat on the 4 Reasons Why A Home Staging Business May Be Calling You.   
How To Decide Which Staging Training Course to Take?
You are right MaryAnn, there are many staging training courses out there. It is tough to decide. My first recommendation would be study each carefully, while a $749 course might sound great for the price, when it boils down to the training it many not be what you need - and the prices are all over the place. And while it is true, you do not need training or certification or a license to be a home stager, there is something to be said for the proper training and the credentials you receive when you're just starting out. 
I have been working with staging professionals to help market their businesses for the past four years, and in the marketing industry for 30 years, I can tell you starting any business requires dedication, hard work, learning and more learning, and a strong business sense.
Here are the top 16 points of what to look for in staging training courses.
Take price out of the equation when deciding which is the best course for you (as if each course was priced exactly the same) - look at each course you are considering by what is offered, the learning, the end result, the support after.
Look at who is providing the course: does the person/entity have sound business experience in the staging industry, have awards, a proven influencer in home staging, written books, public speaking?
Does the staging course offer intense live training or is it just a diy course? The diy courses are generally open to interpretation - if you interpret wrong, it could affect the performance of your business and your staging.
Does the course have written and practical exams?
Does the course offer you certification in the staging industry - not just a certificate of completion, but a recognized certification known throughout the industry?
Does the course offer you hands-on experience staging a home in the community that is actually on the market - a home you can use for your portfolio when you get started?
Does the course offer sound business training as well as staging training. In other words does the course teach you how to set up your business, name it, register it, handle your accounting, estimating, inventory, taxes, forms, contracts, website?
Does the course offer marketing material, and information on how to market your business when you are just getting started, and ongoing material as you grow?
Does the staging training provider offer marketing support from a dedicated marketer?
Does the course provider offer mentorship, peer support and coaching after being certified?
Does the course provider offer ongoing continuing education and further certifications in specialized areas?
Does the school or training facility offer North America wide discounts and services for insurance and purchasing from their partners for their students
Does the training provider offer you the ability to be found in your area as a stager by homeowners and realtors looking to hire a stager?
Does the training provider offer a system that helps to generate leads for you once you have graduated? (Editor's Note: To my knowledge CSP® is the only staging training school that provides a lead generation system for their graduates). 
Does the training provider offer options for live training certification (online, in person throughout North America)?
Does the training provider have well established stagers throughout North America - a testimonial to the success of the school?
So now, you can consider the price of the training.  If the course you are looking at provides all of the above - what would you expect to pay for this certification and all of the above? In my mind, all of the above is priceless.

Look at it this way  -- any certificate program you would take at the college level would be priced at roughly $3800 or more. At the end they have given you the practical knowledge, but not the working knowledge, not the business knowledge. You are still left with how do you operate a business doing what you were trained for.

Cheap training isn't good. Good staging certification isn't cheap.

So now that I have given you everything to look at when searching for the right training to become a home stager, I can also tell you after working with many stagers, with various levels of training from a variety of training providers, there is only one staging training school that ticks every box above - that is CSP International™ Staging Business Training Academy.
They teach the business of staging.
Don't take my word for it - check out their site, request their information package, learn about their payment programs. Read the testimonials. Get the information package here - that will cost you nothing! And did you know? CSP® also publishes the Staging Standard Magazine 6 times per year.  
Oh and if your genuinely interested: 
Check Out the Next Course Dates
---
Debi Katsmar is owner and marketing strategist of PRowl Communications, a marketing agency dedicated to taking the headache out of your marketing -- automatically. Debi has been self-employed in the marketing industry for 30+ years, she has helped 1000+ businesses grow and prosper throughout that time. She is a certifed email marketing specialist and CRM expert, a mother two 3 millennials, and loves her fur-babies. Debi loves to mentor and provides a ton of help to her clients and those she meets. If you have a marketing or business question -- Ask Debi

And for full disclosure... I am the marketing expert provided to each and every Certified Staging Professional® graduate of CSP International™ - I have a staging marketing resource centre dedicated to you and your home staging business.