Austin, Texas - November 2, 2023 - Zoho Corporation, is solidifying its commitment to the Canadian market with the opening of two new data centers in Montreal and Toronto offering Canadian customers the benefit of localized data storage and processing.
Myself and all the other Canadian Authorized Zoho Partners, not to mention Canadian users have been asking for a Canadian Data Centre for years! We were told it was coming a few years back - then the pandemic hit and the focus shifted! Well, here, nor there -- the Canadian Data Centres are finally here!  
This is HUGE for the financial industries and a few others, as their data must stay in Canada.  We have worked with many over the years where our clients were using to CRM systems - the one provided by their head office for everything that held confidential and financial information and documents, and another for marketing purposes.  What a nightmare moving data constantly..  Well - NO MORE! 
With the two data centres now available in Montreal and Toronto, those companies that must keep their data in Canada, can now take advantage of the Zoho suite of tools to manage their business, sales, marketing and human resources - AWESOME!  One thing to note however, the Canadian Data Centres are only available to new users for the time being.  Zoho wasn't clear on a date when existing users can migrate to the Canadian Data Centres - but it is coming. 
"The new data centers and their operations carry all the required certifications, which assures our customers that their data is securely stored only within Canadian boundaries," said Chandrashekar LSP, Managing Director of Zoho Canada.

"Given the significance of privacy regulations and performance requirements, many Canadian organizations are placing an increased emphasis on data sovereignty, data residency and enhanced security," added Chandrashekar. "This emphasis is especially applicable for large enterprises, including those in government, banking and financial service sectors."
Globally, Zoho surpassed 100 million users in August, thanks to the continued support of Canadian customers, as well as the dedicated effort of the company's partner network.

The new Canadian data centers represent Zoho's 13th and 14th globally and underscore the company's commitment to user privacy and security, as well as its efforts to serve customers locally.
Read the full press release here:

And if you would like to try Zoho and its suite of tools, reach out to us for more information, or click the link below for a free trial of Zoho One - your complete operating system!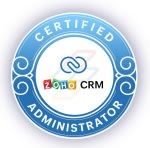 https://store.zoho.com/ResellerCustomerSignUp.do?id=7d6decb8650463c035cda39aac816696