Software Review Sites Rate Zoho Social Best-in-Class

Features you and your team will love
Schedule content in multiple ways, monitor what matters, and create intelligent reports. Zoho Social empowers you with all the features you need to build a great brand on social media.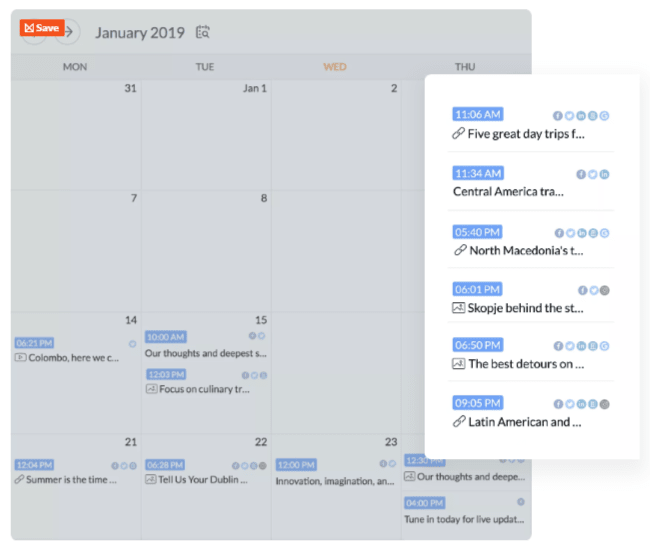 Publishing Calendar
Manage your content from a single screen with drag-and-drop rescheduling, scheduled posts and repeat posts.

Live Stream
Respond when your audience is active with live incoming engagements.

Tag Your Team
Tag a team member or @mention members to draw attention to conversations.

Content Queue
Schedule your way, or allow Zoho Social to select times with SmartQ predictions to engage when your audience is active.

Direct Messaging
Respond when your audience is active with live incoming engagements.

Stats & Analytics
Tag a team member or @mention members to draw attention to conversations.

Bulk Scheduling
Schedule your posts in bulk
by entering them on a
spreadsheet and uploading
all at once.

Discuss
Collaborate with your team with a unique feature allowing discussions with your team members.

Custom Reports
Tailor your reports from a wide range of analytics with colourful graphs and charts.

Listening Dashboard
Create specific dashboards for tracking reviews, mentions or keywords for immediate interaction with your audience.

Roles & Permissions
Assign roles & permissions to your team for control over access to information and content changes.

Schedule Reports
Deliver timely reports for you and your team by scheduling. You determine the frequency with automated reports.
More Features and Integrations

For more information on Zoho CRM or Zoho Desk - Email Us
---
Plans & Pricing (CDN)
Get Started free. Prices in Canadian currency. No Credit Card Required.
---
Frequently Asked Questions
---
I would like a demo before trying the system, is that possible?
Yes, you can book a demo with our Zoho Social expert here, or email us, we'll be happy to demonstrate the system for you.
Do I need to provide my credit card information for a trial?
No, you do not need to provide your credit card details for the trial.
What happens after the 15-day free trial ends?
At then end of the trial if you have not purchased a plan, your account will revert to the forever-free plan. You can purchase a plan from your dashboard at any time.
Is there a contract?
No, all plans are month-to-month or paid annually. If you choose to pay annually, you will enjoy a discounted price over the month-to-month plans. We recommend paying month-to-month until you are sure it is the right choice for you, then upgrade at any point to the annual plan.
What payment methods do you accept?
Payments accepted are Visa, Mastercard, American Express and PayPal and are made in U.S. currency. Should you wish to pay the equivalent in Canadian currency, please contact us to setup your account.
GET YOUR FREE TRIAL - No Credit Card Required
---
PRowl Communications is a Zoho Authorized Partner since 2015 allowing us to provide information, sell the products and assist you with the purchase, implementation and training of Zoho products. As such, we earn a commission when you purchase from us, which also gives you the dual support of Zoho and PRowl Communications. The commission we earn helps us continually provide current information, stay up-to-date with Zoho policies and procedures and provide limited support to you if a quick answer is needed. We provide full support to those businesses where we implement, and help manage your systems. 'Zoho', 'Zoho Social' and the logos are trademarks of Zoho Corporation.